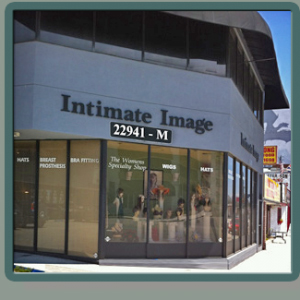 Women's Intimate Apparel Shop in Woodland Hills
We will be helping you to refresh your wardrobe from the inside and style it up with necessery basics to make you feel beautiful (again). For over 30 years Intimate Image has been proud to serve the San Fernando Valley and West Los Angeles community of cancer survivors with post mastectomy apparel and personalized fitting services.
Mainly concentrating on cancer patients, we help them to find functional, fashionable bras, breast prosthesis, wigs, scarves, hats and many more useful high-quality items. Post-mastectomy apparel and aesthetic and functional prosthesis have certain requirements on form, ergonomic shape and quality. At our Intimate Apparel Shop in Woodland Hills, cancer patients find a quiet and private place paired with excellent choice and consultation. Expertly trained certified fitters offer the kind of sensitive and practical guidance that gives cancer patients the peace of mind and confidence in their appearance as they get back to their lives. Of course, online orders are possible.
Feedback:
Please let us know how we're doing:
Intimate Image in Woodland Hills
22941M Ventura Boulevard Woodland Hills, CA 91364
Tel: 818-876-7333
Fax: 818-876-7334
Email:

[email protected]