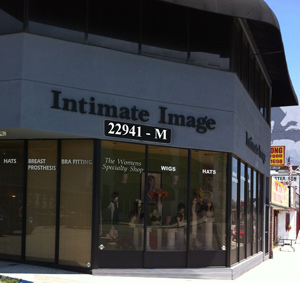 If You Would Like To Join Our Team We Are Hiring!
We do not have any job openings at the moment. Please come back again later.
Intimate Image Woodland Hills, California Boutique
A special boutique for cancer patients – Apparel, Bras, Breast Prosthesis and more
Our Mission— To help women everywhere enjoy fuller, more active lives after breast surgery.
Intimate Image® is a unique boutique for women and men fighting cancer which offers bras, breast prosthesis, lymphedema compression garments, wigs, scarves, hats and more. Physically located in Woodland Hills, California, Intimate Image provides a serene and private place for cancer patients to receive expert and personalized help with the purchase of lingerie, breast forms, compression hosiery, wigs, hats and more.
As a cancer fighter or cancer survivor you can find a broad selection of custom and ready to wear clothing, including:
Lingerie, Post-Mastectomy Bras & Breast Forms
Hats, Scarves & Wigs, Hair Additions
Compression Hosiery and Lymphedema Arm Sleeves
Arrange for alterations, home or hospital delivery, and special orders

For over 30 years Intimate Image has been proud to serve the San Fernando Valley and West Los Angeles community of cancer survivors with post mastectomy apparel and personalized fitting services. Expertly trained certified fitters offers the kind of sensitive and practical guidance that gives cancer patients the peace of mind and confidence in their appearance as they get back to their lives.
A message from Beth Higgins, Breast Prosthesis Specialist:
I am deeply committed to serving the special needs of women dealing with cancer or breast surgery. Over the past 30 years, I have had the privilege of helping women get back to their lives.
It is thrilling to have played a part in helping our customers feel good about themselves again. When they shop at Intimate Image they feel good about their appearance and have the confidence to go out and participate fully in their lives. I created Intimate Image for women to receive personal, private and expert assistance in a warm, comfortable and private environment. Informative events and seminars are held regularly. If you have questions or need confidential assistance, please call. For private consultation, or for more information please call me at (818) 876-7333.
Sincerely,
Beth Higgins
Intimate Image®, Certified Prosthesis Fitter, (818) 876-7333